10 Ways to Enjoy Citrus Fruit
You may still be knee deep in snow, but there is a way to be instantly transported to the tropics—a juicy citrus fruit. Citrus fruits—oranges, tangerines, clementines, grapefruits, blood oranges, lemons, limes–are in-season right now, meaning they are cheap and abundant! They are also packed with Vitamin C, potassium, natural sugars (to cure a sweet tooth), and folate; plus, they are linked to the prevention of a myriad of diseases.  Also, because they are thick-skinned they are on the "Clean 15" list of fruits—so less worries about pesticides. So without further ado here are 10 ways to enjoy citrus fruit while it's in season.
10 Ways to Enjoy Citrus Fruit
1. Fresh
Obviously, just peel and eat is a fantastic way to enjoy fruit. I'm a big fan of tangerines, clementines, and tangelos fresh for a snack. Add a handful of almonds or walnuts and you have a great balanced snack.
2. Broiled
This is a great way to enjoy a tarter citrus like a grapefruit since broiling brings out the natural sweetness. Oranges are great cooked this way too! Place fruit halved (with skin still on) on a cookie sheet. Turn oven to low broil. Heat until golden brown on top. You can also sprinkle on a bit of coconut flakes beforehand or even a touch of brown sugar for even more glorious treat!
Recipes
Next let's look at some recipes I think look pretty darn tasty AND incorporate citrus fruits!
Breakfast
3. Orange Chocolate Green Smoothie
4. Gluten-Free Orange Pancakes with Wild-Blueberry Sauce
Main Dish
6. Orange and Honey Glazed Pork Chops
Sides
8. Citrus Salad with Currants and Goat Cheese (I would make this a bit simpler—just some spinach/kale, mandarin oranges, walnuts, fancy cheese, and maybe a homemade orange dressing.)
Desserts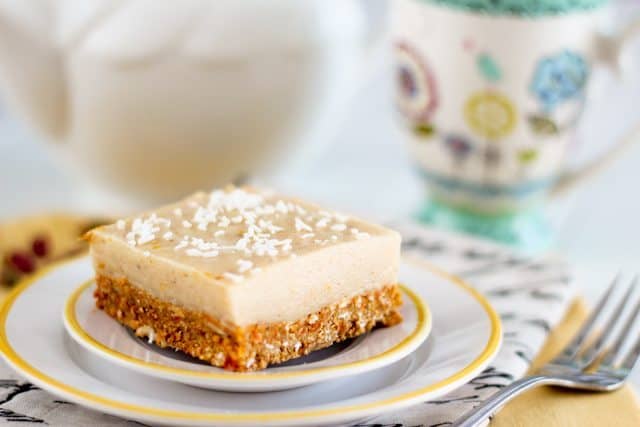 Source
9. Healthy Meyer Lemon Squares (I die! These looks SO good!!)
10. Double Chocolate Orange Brownies
Wow! So now you have no excuse for not hitting up your local produce department for some delicious citrus!
What is your favorite way to enjoy citrus produce?
Got a favorite recipe?—Link it up in the comments!