So today I'm thinking hot weather—longing for the beach, the waves, a pool, heck, even a sprinkler in the yard! These thoughts led me down a trail of swimsuit shopping and I thought I would share some of my favorites with you—after all online swimsuit shopping is so much easier and more fun!!
Lands End Scoopneck Blouson Tankini
Super-cute styling and a bit forgiving if your tummy is still a work in progress. Good news for me since I had a baby a couple months ago…
Albion Fit Antigua Floral Rashguard
Um, adorable! I love this for a cover up or for, you know, all the surfing I do.
Lands End Medallion Bikini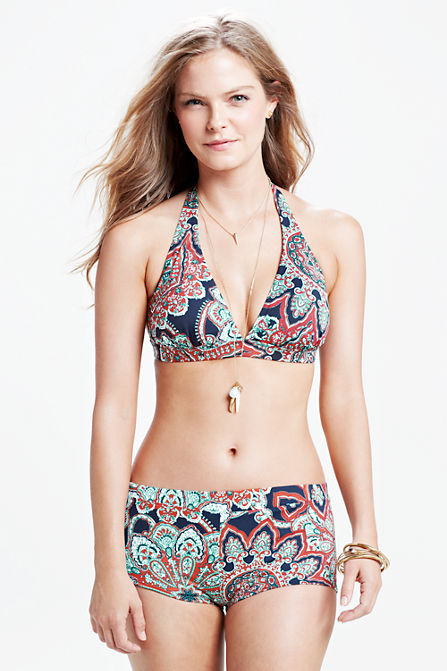 Cauuute! Okay, I know that Lands End sometimes has an "older" feel but I really, really like some of their swimwear. Or maybe I'm just getting old. But surely not that.
Ralph Lauren Ruched Halter
I like the slightly sportier look of this suit and the bright coral color is so fun!
Seafolly Summer Garden Boyleg Maillot
So sweet and retro! Plus it shows off what you want to show off and the ruching and print helps cinch your waist. Classy and cute!
Anthropologie Flaherty Floral Bikini
And isn't this one so gamine? I love the flirty, but sophisticated look and that it's not a bikini that your girls will be flopping out of substantial.
Which of these would you rock on the beach this summer? Do you prefer online or in person shopping?
P.S. Happy Good Friday!! Just realized what day it is and that this post isn't very reverential–oops!  I hope you have an amazing weekend celebrating our risen Saviour, Jesus!
"For God so loved the world that he gave his one and only son that whoever believes in Him should not perish, but have everlasting life."