5 Pure Michigan Family Vacations
While I love traveling and seeing new places, our state has tons of fun and beautiful places to visit that are perfect for families large and small! Check out some of my vacation ideas that prove you don't have to travel far to have an active family vacation.
Drive up to gorgeous Northern Michigan and put in your paddle for a day or two day canoe trip. You'll feel like your in the middle of a Pure Michigan commercial!  There is even a campground with cabins, (heck yeah!) a climbing wall, disc golf and lots of hiking if you wanted to extend your stay! I also loved that their website had camping recipes and overall seemed very family friendly.
Kal-Haven Bike Ride and Lakeshore Stay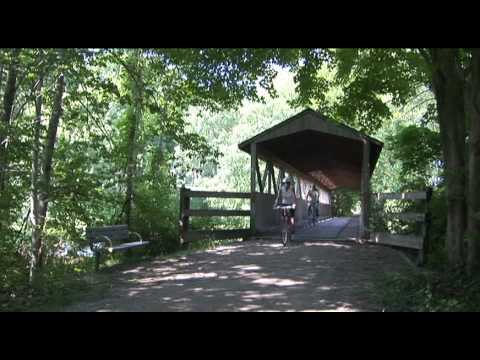 In full disclosure, I stole this idea from an actual vacation my coworker took with her husband a few years ago and it's probably best suited for older kids or if you're strong enough to pull your littles in a bike trailer.  The Kal-Haven trail was converted from an old railroad line that ran from Kalamazoo to South Haven and is now a great trail for running, biking, and walking.  The 33 mile ride from Kalamazoo is completely doable and if you want to cut your time you could also jump on the trail a little father down at Gobles. Then when you arrive in South Haven there is lots of fun in the surf and sand to be had before your return trip!
Of course, I've got to give a shout-out to my favorite vacation spot Gull Lake Ministries.  Now your vacation here can be as relaxing as you want or it can be as active as you want! Afternoon activities include swimming, boating, rock climbing, bike rides around the lake, volleyball, rec field games like ultimate Frisbee, flag football and capture the flag, plus full use of their amazing recreational facility—which includes indoor rock climbing, bowling alley, basketball courts, pickle ball, elevated track and gym! Whew! The best news is it's physically energizing and spiritually refreshing!
4. Mackinaw Island Cabins
I loved going to Mackinaw Island when I was a kid—the quaint shops, salt water taffy, and bike rides are fun for all ages.  While checking out the island is an adventure, staying there can get pricy so renting a cabin on Mackinaw City side is a great option, plus gives you the freedom to travel and explore Fort Michlimackinac, Tequamenon Falls, area trails and more. I'm hoping Nate and I can get up to the Mackinac area in the fall sometime.
5. Detroit Family Fun
Detroit has had its ups and downs as a city, but there is a lot of family fun to be had in the area—it makes a great day trip or stay-cation. Fun things to do there include the Detroit Zoo, taking in a Tiger's game, visiting Cranbook Institute of Science are a few of the options. Ann Arbor is also a great little city that has cool stuff like the Wednesday night Farmer's Market that includes live music!
What is one in-state place you'd like to visit?