7 Exciting Fitness Activities to Try this Summer
We've sat around all winter waiting for it so let's get out and get active!  Check out these 7 exciting fitness activities to try this summer!
1.) Paddle Boarding
Using a board similar to a surf board you stand and paddle providing a great core and arms workout! If Jillian Michaels is a fan you know it's got to be good!  Our camp has a set and as soon as the water warms a bit (because I KNOW I will fall in!) I'm going to be out paddling!
2. Mud Run
Whether it's a national scale big deal race, an all girls event like Pretty Muddy (join me in Chicago in September!!), or a local run for charity I'm pumped to be running at least one, but maybe more mud runs this summer! Does anyone local want to be on a team with me for the Kalamazoo Mud Run?
3. Pickleball
If you've been a reader here at Kate Moving Forward you've heard me mention that Nate and I love to play pickle ball!  Pickleball is a played with a tennis net, whiffle ball, and large wooden paddles similar to ping pong paddles.  The ball is easier to direct than tennis and you are in a smaller court so it is more manageable, but you can still get a great workout with your spouse, friend, kid or grandpa! A lot of parks and ymca's are starting to have more pickle ball courts.
4. Geocaching
I had a lot of fun with this last year! I would use geocaching (finding a small object at a marked location using GPS) as a way to teach my clients' patience, following directions, and to get them out in nature! Although it can be frustrating if you are wondering around in the woods where a cache is supposed to be and you can't find it!  You can download simple geocaching apps on your smart phone and find local spots—there is probably one close enough to make a good adventurous walk and satisfy your inner treasure-hunter!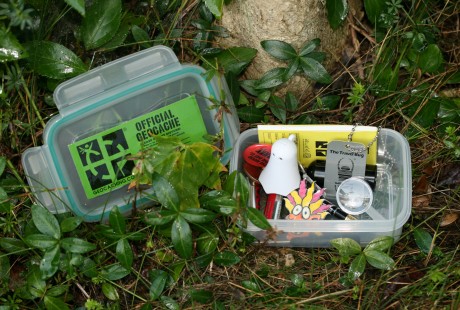 5. Trampolines
Well of course you could get a lame little one and bounce in your basement, or you could put one in your backyard, but why not visit a giant indoor trampoline park!  You could spend hours literally jumping off the walls in a nice cushioned environment where you don't have to worry about tripping into the springs, flipping over backward, and then dangling by your leg until your siblings finally stopped laughing long enough to help you out of your contortions. You may have to drive a bit to find one (closest one to me is an hour away) but totally worth it!
6. Aqua Zumba
That's right! Zumba in the water—basically a pool party cardio session!  I read about this on the Fitnessista and thought it sounded actually less intimidating than regular Zumba, maybe because your underwater and so if you mess up the moves no one really notices.  The water actually provides a level of resistance training to Zumba and you watch the instructor doing the moves on dry ground so you can fully see what they are doing and copy it. You can find an Aqua Zumba class near you easily using the Zumba website!
7. Paintballing
I know it's really probably had it's heyday, but there is nothing like the adrenalin-pumping fun of being chased around the woods by your friends threatening you with bruises.  All that running and army crawling will torch tons of calories too!  It's been awhile since I played paintball, but I will attest to the fact that it doesn't hurt that bad when everyone abides by regulation and plays fair—I never got welts and I bruise easily.  One of the most fun I had in college was playing paintball at an old junkyard!
Have you tried any of these 7 exciting summer activities? Any you'd love to do this summer? Want to run a mud run with me?