How to Ditch Mom Guilt for Good
Mom guilt…that nagging feeling that you are "less than" other moms, berating yourself for not measuring up to impossible or invisible standards….is rampant among millennial moms. Learn how to ditch it for good and step into your motherhood with confidence and courage.
Have you ever had a day when you're just scrolling social media innocently when you read a post from a friend talking about how she is creating unique and educational crafts with her kids everyday. And you know there's nothing wrong with your current craft capacity of coloring in a Barbie coloring book with her your kid, BUT STILL the voices creep in…
"You should try something like that."
"You don't do educational crafts with your kids and I bet they'd love it."
"You can barely get lunch together so I guess that's not for you, too bad you're kids don't have a cool mom like her."
How to Ditch Mom Guilt for Good
Step 1. Understand the social media highlight reel mentality
Mom guilt is so real and so paralyzing for moms today. And we hear it so much louder than ever before today thanks to social media.
What SHE feeds her kids for lunch.
How HER house is decorated for the holidays.
How she's crushing e-learning. And killing her workouts. And getting up early for quiet time. And taking cute date night pics with her husband.
But let's be real. There are no such things as perfect moms, no such thing as perfect humans. If we see someone that looks "perfect" on instagram, they aren't perfect. They're just showing you their best parts.
I love breaking up the instagram highlight reel mentality and keeping it real on social media!! It's important that we hear from women about how they mess up, ask forgiveness, right their course, and keep moving forward. I love watching women that aren't afraid to admit when they're wrong or when they still have growing to do.
And it's totally okay to have some "aspirational content" on social media, but just be sure to mix in plenty of authentic people in your real life and online spaces.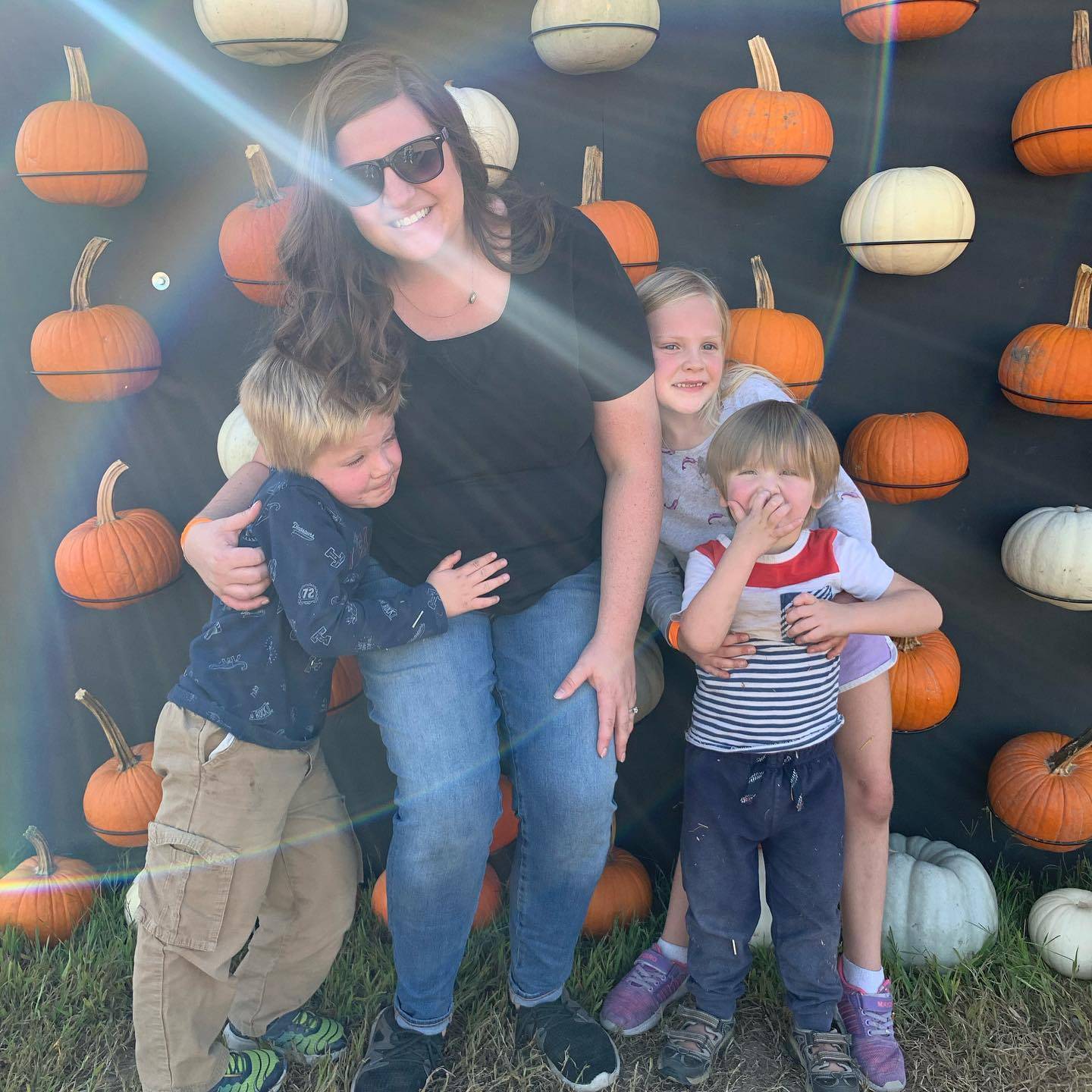 Yup! That's us on a "picture perfect" fall outing. 😆
Step 2. Acknowledge that Mom guilt means that you care.
Here's what I would tell you if we were clicking peppermint mocha's in a coffee shop right now…I'd lean in and grab your hands and look into your eyes and say….
"Mom guilt means you care."
It means that you are a freaking badass trying (probably as hard as you can) to be the best mom you can be for your family.
RELATED: HOW TO FIND REST IN GOD AS A MOM
That you feel that you are messing this up and falling short just shows how incredibly BIG your heart is. And feeling guilty for having mom guilty is just another shame trap and we aren't going there, sis.
I know I will feel mom guilt every now and again. I can't completely eliminate that feeling and I don't have to. Experiencing mom guilt simply means I've got a big heart and I care a lot.
Step 3. Beat mom guilt by recognizing your strengths
In my article, "You don't have to mother like anyone else" I said this:
"I hope one day my kids thank me because they will remember the mama who unapologetically herself, mothered in her own unique way, and was happier for it.
I hope they remember I didn't let anyone else's preconceptions about mothering shame or guilt me into doing motherhood in a way that was less than fully lit up."
I spend time recognizing and celebrating my strengths as a mom.
I'll probably never be the crafty mom, but I love to read to my kids and I love snuggling with them. I'm not a super playful mom, but I'm intentional to my to teach my kids personal responsibility and respect. I'm great at talking through feelings and helping my kids deal with their big feelings.
When I know my strengths, I can be confident in the type of mother I AM, not the one I wish to be or that I (or someone else) think I should be.
RELATED: The Role of a Mother in the Family
Your call as a mom, daughter, sister, friend, beloved child of God is so much bigger than you can imagine. False guilt and shame in not measuring up is only going to hold you back from the vibrant, abundant life God wants you to step into.
I want you to know today when mom guilt and "the shoulds" start rearing their ugly heads…… rest in the truth that you are the perfect mama for your littles and your unique strengths are ENOUGH for your kids.
They need you. In all your imperfect glory.
Where do you see the mom guilt narrative most play out in your life?
What is one of your strengths as a mom?