Please enjoy today's guest post! 
Hi everyone! I'm Adriana from Daily Dose of Design. I live in New York and blog all things fashion, interior design, DIY and lifestyle. I love meeting other bloggers and hope you enjoy this post and my blog!
When Kate and I met, she told me about her adorable little girl who is at the age where she wants to explore everything in sight and get into anything she can get her tiny little hands on. Although I don't yet have children, my four young nieces and nephews have shown me quite a bit of this in real life! With that being said, I can only imagine how hard it is having nice furniture that your child(ren) won't destroy but still looks nice!

Even though it's important to have a kid friendly space, you still likely don't want your living room to look like a day care center! A space can look mature and sophisticated while still being comfortable and kid friendly and here's how:
Have a designated kid space:
make space in your living room for your little ones! If you have a set space for them (such as a kid sized play table that matches your furniture) they can color and play with their toys there. When you have company over, the adults have their space and the kids have theirs while all being in the same room to oversee their play.
Try an outdoor rug: toddlers are prone to spills and messes, so try looking at outdoor rugs for your living space. Stores often make really, really nice outdoor rugs that resemble indoor rugs, but are much easier to clean! Some of my favorite rugs are outdoor rugs that can double as an indoor one!
Coffee table storage: depending on your living room style, try a coffee table that has an opening top to store toys in! This is an easy fix to hide your child's toys when in rush – and even makes for great storage!
Perfect poufs: having a couple poufs/ottomans in your living room gives extra seating which is perfect for children. Not only do they leave room to add pops of color to a space, but they're a lot of fun for kids to sit on!
Colorful patterns & texture are your best friend: instead of going for the white couch that is gorgeous but has a material that is nearly impossible to clean, choose a couch with a bright color, has a pattern or a durable and comfortable texture. When your toddler decides to spill their juicy juice all over your couch, you'll be thankful that you have a dark color and durable texture when you're ready to clean it! Dark accents with light decor will make a room pop and is still completely kid friendly.
Accessorize out of reach: being able to decorate your living room with decor that isn't kid friendly is still possible! Place your nice decor that you don't want your toddlers getting their hands on on a piece of furniture that you know they can't reach. For example on a tall chest or tall end tables – that way you can still have your nice decor!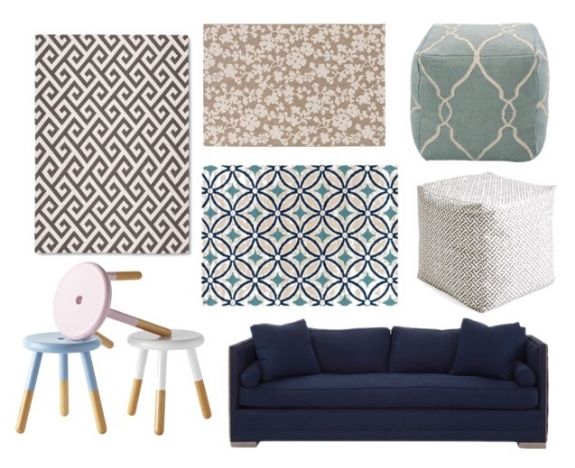 Greek patterned outdoor rug//
Floral outdoor rug//
Geometric outdoor rug//
Teal pouf//
Patterned pouf//
Living room play table//
Navy couch
I love these picks for a kid friendly living room! I hope these tips help all the moms out there who have food-throwing toddlers!

Find me on: Facebook, Instagram, Pinterest and Bloglovin!
Ooh I adore that geometric patterned rug! So cute! It would be perfect in our dining room! Thanks so much for sharing, Adriana! ~Kate