The Best Walking Workouts
Walking is often seen as the beginning point on a fitness journey. It's where people start until they get to running or spinning or other higher intensity workouts. But walking can be a killer workout! Walking is easier on your joints and still is an excellent cardio activity, burning almost the same amount of calories per mile as running. Just make sure you are mixing things up enought to be pushing yourself, not just out for a Sunday stroll. Your exertion should be at a 6-7 on a 10 point scale for a steady walk and it's great to incorporate some higher intensity intervals in your walk. Here are a few of the best walking workouts to show you how to get the most out of your walk.
Leslie Sansone Walk Away the Pounds Ultimate Collection
I love these dvds! I've been using them since way back in high school and they still deliver a great cardio workout that will get you moving and varying distances so you can get a longer "walk" in if you'd like. She also does some light resistance exercises with an exercise band. Perfect for a day with the weather doesn't cooperate with your outdoor walk and you don't have access to the gym.
45 Minute Power Walking Workout by Carrots n Cake
My go-to long walk workout that keeps things challenging and interesting by varying speed and even some walking lunges!
Work It Walking Workout by Fitnessista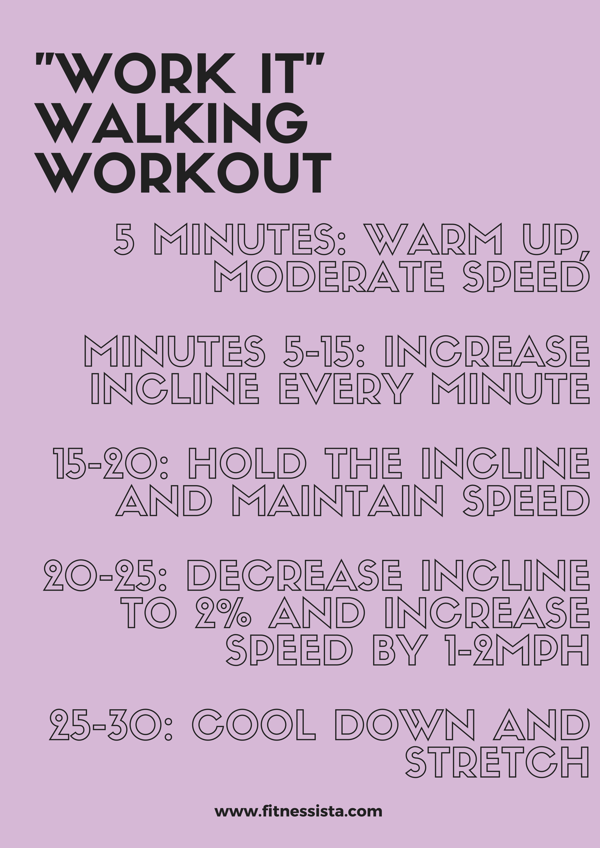 A similar workout is in her Hiit It book and is a great way to really push yourself while walking on a treadmill. Your booty will be feeling the burn!
Stroller Fitness Workout by Blonde Ponytail
Put your walk to work! This workout mixes power walking (or running if you please) intervals in with a full body workout you can do with your babe in the stroller. Perfect for busy mamas and caregivers! (Note: the walking distances are 800 meters; if you'd rather power walk for time do it for 7 minutes.)
Bonus Tips for a Great Walking Workout
Walk hills! Either a route you know will be hilly or the same hilly stretch multiple times.
Go for a hike in the woods. The uneven surface will make your body (and brain) work a little harder.
Speed up! It's easy to fall into the same pace, but challenge yourself to walk fast 1-2 minute intervals.
Walk your dog! It's good for them too!
Rock out while you workout. Get an upbeat playlist for your walk to keep you moving and grooving. Check out my Country Music Playlist and 2015 Top 40 Playlist for some great tunes!
Get a group or the whole family together so you can socialize and catch up while you walk–moving more is good for everyone.
Push, pull, or carry your kids while walking! The added resistance will burn more calories, plus builds healthy family habits!
Use a step tracker to challenge yourself to walk 10,000 steps a day. See if you can beat your own records and friends!
[tweetthis]Use these walking workouts and tips to get the most out of your walk! #FitFluential #walking[/tweetthis]
The fall is a BEAUTIFUL time of year to get out and walk! The air is crips and there is so much to see! There is nothing wrong with a slower walk, if it's just to be active and not in place of a workout. To really push your walk to the next level try one of these workouts or implement some of the walking tips!
Do you like to walk? How do you kick it up a notch while walking?